Discover more from WILD WAY
the art and science of gardening for nature by award winning writer Jack Wallington
Over 3,000 subscribers
AKEBIA LONGERACEMOSA
POT'S GROWING ON? 12/05/23
Akebia longeracemosa is a species closely related to Akebia quinata but to my eyes, ten times more beautiful because of the clue in its name. Long pendulous racemes of spring flowers hanging down like mini Wisteria flowers.
A raceme is a flower stem with lots of small flowers on stalks coming off of it. If the individual flowers are closer to the stem, as on a foxglove, it's called a spike. Whereas if each side stalk has multiple flowers, it's known in botany as a panicle.
Day-to-day we don't need to think about any of that, we can just enjoy the plant. Though those physical differences are very useful if you want to identify wild flowers.
The flowers are an interesting structure with two large female flowers at the top, containing the stigma for receiving pollen and the ovaries. A raceme of smaller male flowers with the pollen covered anthers hangs beneath these.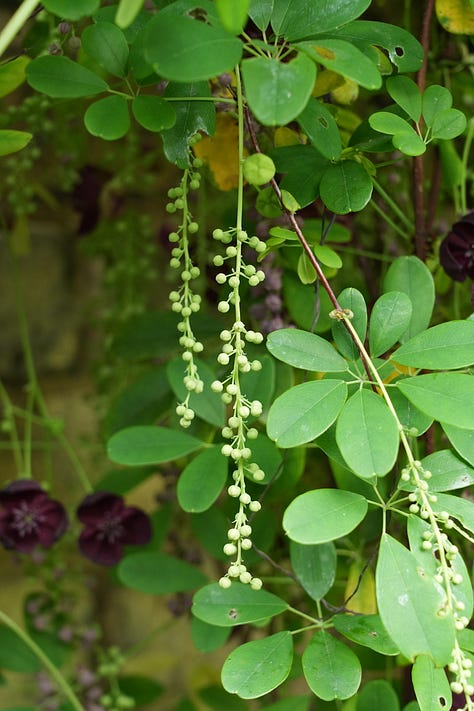 Akebia spp. need to be pollinated by a different plant to produce fruit, which are plump oblong and edible. I've yet to taste them, people tell me they're nice but not something to rush out for. Visually they look a bit odd so I'm happy to only have one plant and no fruit.
It's easy to be drawn to the flowers of course but perhaps of bigger consideration for me when choosing a large plant like a climber, especially when the flowering window is short, is how it looks the rest of the time. Foliage in a climber is a primary consideration and this is where the Akebia tribe tick a second box for me.
I love the compound palmate leaves, palmate meaning hand like, compound meaning of multiple parts - where one leaf consists of multiple smaller leaflets. Leaves like a Fatsia where it is hand-like but all joined as one are just palmate. Akebia longeracemosa is semi-evergreen, which means it holds most of its leaves in winter unless very cold.
Akebia longeracemosa is a twining woody climber, hardy to about -15C. It is extremely vigorous, growing up to 8m tall and wide, possibly more, especially if stems root, which they do quite easily when touching the soil. Only plant it if you have space otherwise you will be on a losing battle every year to restrict it.
WILD WAY is a reader-supported publication. To receive new posts and support my work, consider becoming a free or paid subscriber.
Plants sold in the UK originate from Northern Taiwan and can be propagated from seed, cuttings or digging up any stray rooted stems. My go to suppliers for them have been independent nurseries Crug Farm in Wales and Pan Global in the Cotswolds.
Have you grown it? Will you grow it? Let me know. I'm currently taking a bunch of cuttings from the pictured plant from one of my designs to grow at home.
p.s. my latest book A Greener Life: Discover the Joy of Mindful and Sustainable Gardening is out now on Kindle!