Discover more from WILD WAY
the art and science of gardening for nature by award winning writer Jack Wallington
Over 3,000 subscribers
FROST HEAVE AND SNOW
POT'S GROWING ON? 09/03/23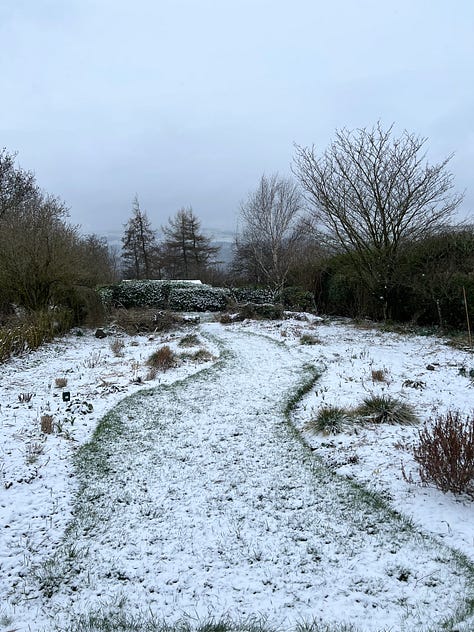 I'm writing to you from within what my weather app tells me is a blizzard. Say what. I expected more snow before winter finished with us, this week has delivered. Chris and I are currently snowed into the house, brighter inside thanks to light reflected by snow covering the valley. The depth of the freeze has surprised me, dropping as low as -7C. It's been a cold winter overall, one I was prepared for, knowing Yorkshire well through my life. Yet I can't help think about some of the young plants that haven't had a chance to grow large and more resistant to the cold. I park this worry knowing this test of establishing a garden in such a harsh environment - and winters can be harsher - will produce valuable insights for the future and garden designs.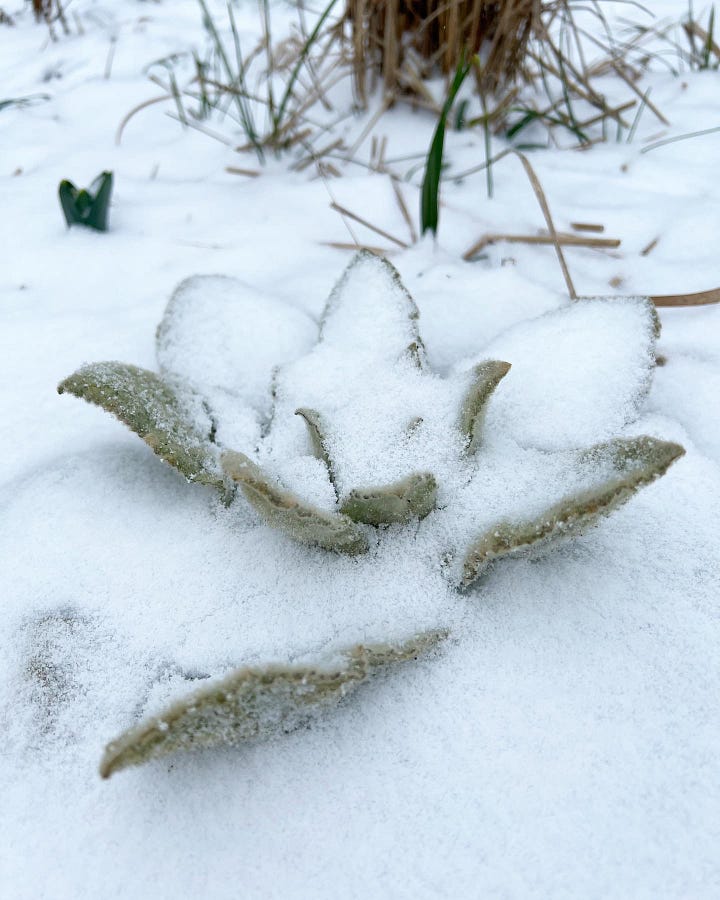 All of the plants I've added to our garden are hardy and fully capable of shrugging off the cold. Barely batting a leaf above are self-sown Verbascum thapsus and Allium schubertii 'Arctic Snow', living up to its name.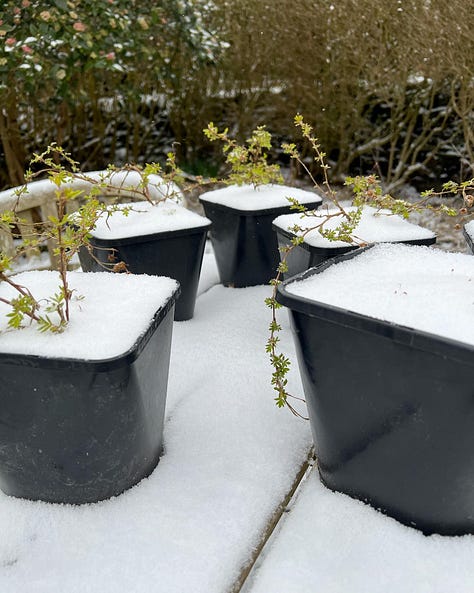 Potentilla cuttings (left) waiting to be planted out couldn't be less fussed. Onion seedlings in the polytunnel (middle) are fully hardy, only needing heat to germinate. A tiny icicle forming on the gutter leading to our full but frozen water butts.
Before the snow was the freeze. I noticed the entire ground in the garden was raised by 3-5cm, this is called frost heave.
Frost heave is when the water in the soil freezes and expands, pushing soil upward. It's a good natural phenomenon that opens up soil, contributing to its texture and structure.
If you look closely, you'll see the thing that also struck me, that it's clear how many worm casts have formed the raised layer. Demonstrating how rich in life our soil is.
It's interesting observing the different states the soil in the garden goes through across the seasons. The more organic matter, the better the structure will be and I'm adding it to it year-on-year via the cut and chuck wild way method explained in the main monthly edition sent to paid subscribers last week.
In a more extreme example I spotted on a walk near our garden in a particularly waterlogged area by a stream, the soil hasn't just expanded but the water has burst out and upward.