Discover more from WILD WAY
the art and science of gardening for nature by award winning writer Jack Wallington
Over 3,000 subscribers
SNOW, HOAR FROST, CRYSTAL WORLD
POT'S GROWING ON? 16/12/22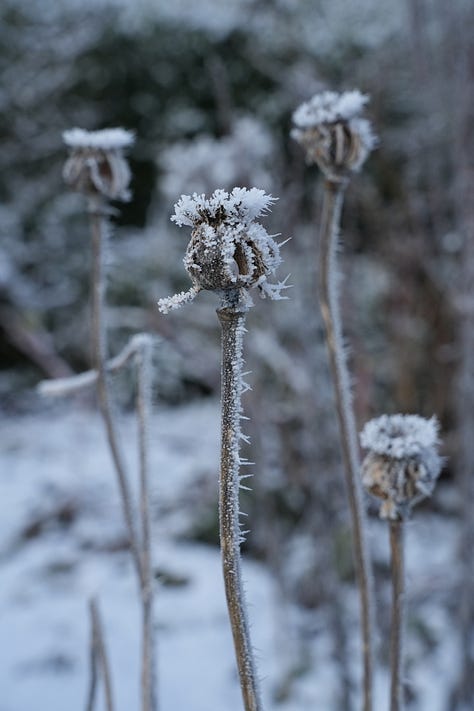 Hi everyone!
Wow, what a cold week, we had a light dusting of snow last Friday which has lasted all week thanks to zero centigrade temperatures in the day and -6.5C temperatures at night. It's a fully frozen wonderland and the coldest weather I've experienced since I began gardening professionally ten years ago or so. In the photos above you can see hoar frost forming ice crystals in the air on seed heads. Not exactly what we need given the increased cost of fuel for heating right now but it does make for some very beautiful scenes.
My books: A Greener Life | Wild about Weeds | Patterns
Rosemary covered in snow and ice, this variety is a white flowered one, it's the rosemary I have always grown through my adult life, and reportedly less hardy than regular blue flowered rosemaries. This is a good test, you'll see the leaves changing to a darker green, this is part of most evergreen hardy plants' defence mechanism against freezing. They do it in different ways such as removing water from cells to prevent them freezing and exploding (as tend to happens to non-hardy leaves) or by using chemicals acting like a natural anti-freeze.
The garden on the first day of the snow. We will have much deeper snow here later in winter. I love the monochrome look thanks to the shapes of the remaining plants. It's a good hint of what is to come with winter plant structure in future years as the plants multiply.
WILD WAY is a reader-supported publication. To receive new posts and support my work, consider becoming a free or paid subscriber.
Hedged path from the garden to the polytunnel, I really need to cut this back a little to widen it out again. It's not much fun having snow brushing into my pants. As seems to happen…
Ice crystals of frost highlight and enhance the natural patterns of leaves on evergreens.
I thought the twigs of the birch trees where our meadow joins the coppice looked wonderful. As I walked down to take this photo, a small hawk flew up quietly onto one of the fence posts and then off into the coppice. Perhaps I disturbed a meal and it will be back.
Here you can see crystals formed by frost so large they actually look like snow, this was a few days into the freeze on some Hylotelephium seed heads. Hoar frost is caused by moisture in the air freezing onto things. Due to our elevation (300m) we're often in cloud, which looks like fog, leading to a lot of air moisture.
If you weren't feeling festive already, hopefully Brussels sprouts covered in snow will do the trick. Brussels sprouts are linked to this time of year because it's when they are ready to start picking. Frost enhances their flavour, making them sweeter. They are one of the seasonal winter vegetables, so if you don't like them, it's worth spending some time exploring recipes to find one you do like because there are few vegetables fresher or more nutritional at this time of year.
I thought it was sweet that our two new chickens, hatched in spring, were nervous about the snow - the first time they will have seen it! It reminded me of the time our cat Rumbles first saw snowflakes as a kitten. The look of wonder on his face. It's lovely seeing how animals react and behave. Chickens, like wild birds, are fully hardy and they've been enjoying the new chicken palace we've built them to protect them from avian bird flu throughout winter. Chickens have to be kept separate from wild birds to avoid them catching avian bird flu.