Discover more from WILD WAY
the art and science of gardening for nature by award winning writer Jack Wallington
Over 3,000 subscribers
PUFFIN ISLAND
WILD WAY DIARY: 22/07/23
This week my partner Chris and I were on holiday in the lovely seaside town of Tenby in Pembrokeshire, on the south west coast of Wales. One of the highlights of this was always going to be the island of Skomer, visiting the seabird colonies, in particular, puffins.
I love everything about puffins, from the name, their fluffiness, their waddle, to their adorable whirring honk.
Puffins are a red list endangered species in the UK. According to the RSPB there are only 580,000 breeding pairs around our coast and they are declining, largely due to human overfishing where they feed.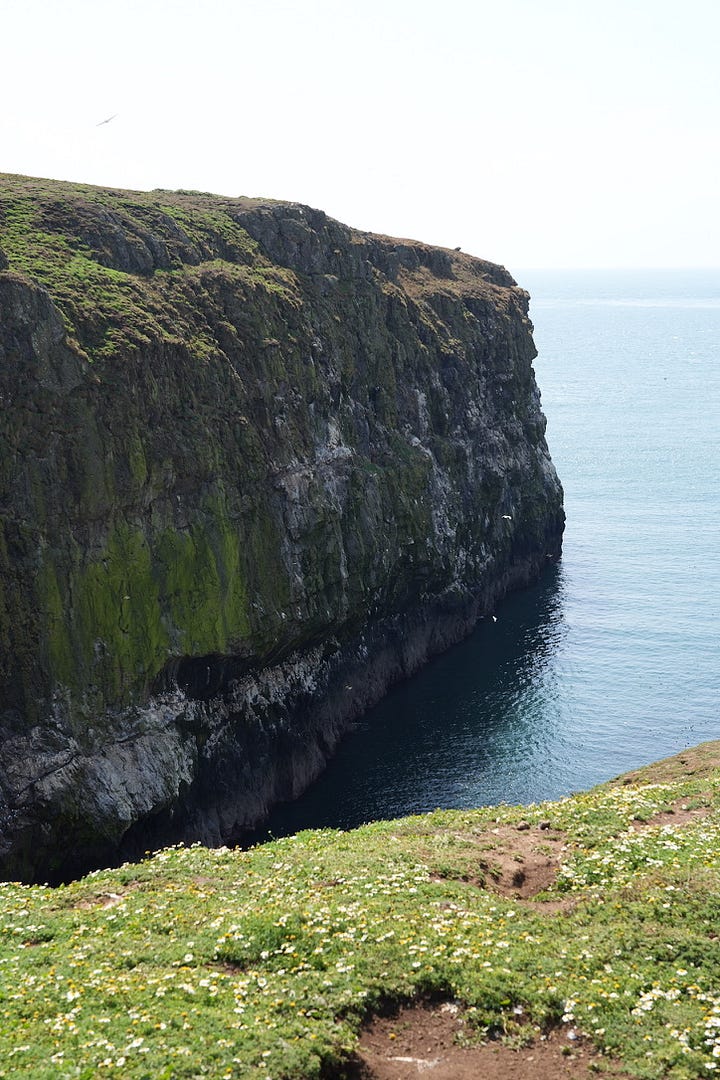 On our visit to Skomer, there were 42,513 puffins (how do they count them?) and we were told it is the only colony that is growing in number, whereas the others are declining.
Puffins live in short burrows that they dig out of cliffs near their feeding grounds, we watched as a couple chucked soil out with their feet and then carried big rocks out in their bills. From these burrows they flap their short wings to take off to sea to fish for food, primarily sandeels which live near the surface of the water. They could be seen returning to land with 7 - 8 or so shiny silver sandeels at a time. I loved the way they landed, feet first with a plonk.
As the sandeels breed so close to Skomer island, the puffins have a relatively easy time of it, flying out in the morning to feed their young, called pufflings. The rest of the day is more relaxed for them, as they rest and pop out to feed themselves.
On Skomer there are a number of rare sea birds including the manx shearwater and razorbill. Which we watched from the cliffs but were too far away to take photos. Many of these, including the puffins, leave the island in winter to travel the seas. One fact I didn't know is that puffin bills shed in winter and look much darker and smaller until breeding season the following summer.
Living for up to 40 years, puffins mate for life at around the age of five. Pairs then raise one puffling per year, working together to look after the egg and baby.
On Skomer, the puffins were extremely friendly toward us, walking and nesting close to the paths, unfazed by our watching. Making it easy to take photos without disrupting them. It reminded me how important it is when we find animals that are happy to cohabit with humans, and how we need to protect that, not exploit it. Who knows how many wild animals would be less wary of us had we not given them reason to be in the past.
On Skomer island, for the few hours we were there it felt like everything was OK in the world. As though the balance between people and wildlife was as it should be. I long for that to be the case everywhere.