Discover more from WILD WAY
the art and science of gardening for nature by award winning writer Jack Wallington
Over 3,000 subscribers
TEENY TINY DAFFODILS
POT'S GROWING ON? 24/03/23
This week I am in love with the teeniest tiniest early daffodils popping up around our garden. Narcissus bulbocodium 'Arctic Bells', N. 'Tête-à-tête' and N. 'Elka', shown above in a somewhat misleading photo, because the vases are only marginally larger than a thimble. These are three of my favourite narcissi, planting one or more of each cultivar into most of my designs. I thought it was worth exploring why I love them so much in this week's newsletter, and in the coming weeks I'll take a look at the larger and later cultivars to come.
Back in the day I wasn't a fan of hoop daffs (hoop naffs more like), I didn't like the shape with the bright yellow. Then I came across Narcissus bulbocodium 'Arctic Bells' with its pale yellow helping everything make sense in my head. Growing to about 20cm, these miniatures have the finest chive-like leaves, making them perfect for planting in lawns, though I also plant them among perennials. In fact, the combination of leaf shape and flower places them in my 'perfect plants' list. They are said to gently spread through seed as well as multiply by bulb, I haven't seen this happen yet myself but I live in hope. I have noticed the flowers are particularly prone to being nibbled by slugs compared to other daffodils.
Narcissus 'Tête-à-tête' is a very well known and widely grown cultivar, made famous for being grown inside on windowsills in spring. It is also a fantastic daffodil to grow outdoors in grass or among plantings. 'Tête-à-tête' is very tough, coming back year after year without any problem. It has the traditional daffodil look and colour on a tiny scale. I love small daffodils for their subtle jewel like appearance at the start of the year, more delicate than the larger relatives. 'Tête-à-tête' is particularly good for that warming pop of yellow at the end of winter and we're lucky to have it growing all over our new garden already where it is noticeably sowing around by seed slowly from clumps (see below).
I first saw Narcissus 'Elka' about five or so years ago in a garden centre grown for displaying in pots but like 'Tête-à-tête', it is a tough little daff. Plant it in grass, under shrubs or among perennials and it will self sow. When the flowers first open, the trumpet is a pale yellow, over a few days slowly the whole flower turns white. I've been wanting to grow this narcissus on mass for years and I have planted it around our drive and in the wilder garden. The look somewhat lonely now and I can't wait to watch as one bulb becomes two, three, four or more over the years.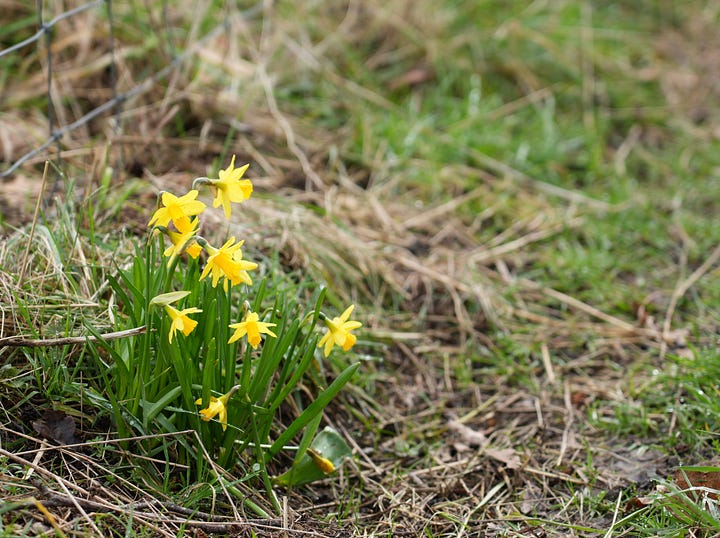 An established clump of 'Tête-à-tête' and one of the new bulbs of 'Elka' added last autumn, showing the yellow trumpet before the whole flower fades to white. If I were to start from scratch I might have left out 'Tête-à-tête' to stick to the paler narcissi, though I admit I am enjoying the large mix of daffodils already growing in our garden. I like tiny narcissi alongside the larger ones because they give colour at a different scale, adding variety and a softness from their size. They also seem to grow easily and strongly.
In the above photo you can clearly see lots of young seedlings around the parent 'Tête-à-tête' plants. Some daffodils will spread by seeds as well as vegetatively by multiplying bulbs. This process is called naturalisation, where the plant settles in naturally, doing what it does in the wild. We have to watch out that a plant doesn't do this too vigorously, taking over. Thankfully daffodils are gentle spreaders, taking many years to self sow and even more years to grow to the point of flowering. Imagine the colour of this clump in a few years time when all of those seedlings are in flower.
Further reading
It's sunny here today and I'm going to pop out to check on some divisions of Cephalaria and Achillea I made a few weeks ago between projects, as well as give the chicken coop a spring clean! Have a lovely weekend, whatever you are doing.
WILD WAY is a reader-supported publication. To receive new posts and support my work, consider becoming a free or paid subscriber.