Discover more from WILD WAY
the art and science of gardening for nature by award winning writer Jack Wallington
Over 3,000 subscribers
WITCH HAZEL, BULB SHOOTS, SALAD
POT'S GROWING ON? 13/01/23
Confession, I still haven't sown the chillies I mentioned last week! I don't know about you but this January I am feeling low on energy, particularly in the afternoons. I think it's partly to do with how many rainy days there have been and how dark it is from four o clock. There is a little flame beginning to flicker inside though, and my head is making plans to start sowing those early plants, I just need to buy some compost. The garden feels a bit like me, it looks asleep but hundreds of the bulbs I planted in autumn, and the one before, have suddenly begun shooting. I leave perennials standing until the cusp of spring, and find most collapse and break down into the soil anyway.
My books: A Greener Life | Wild about Weeds | Patterns
Allium christophii and Narcissus bulbocodium 'Arctic Bells' emerging among Saxifrage and self sown forget-me-not (the latter to be removed soon).
Winter salad leaves in the polytunnel finally growing a bit better after taking a real bashing in the very cold week before Christmas. I sowed most of these in late-August in trays before planting out, though the two rows of smaller plants in the middle were sown direct in the ground in early-October They're a mix of lettuce, mizuna, mibuna, mustard and pak choi.
WILD WAY is a reader-supported publication. To receive new posts and support my work, consider becoming a free or paid subscriber.
We actually have two coppices on our farm, the main one which is quite big and this little area in the photo above, a part of the wild garden below the main garden. Though you won't be able to make them out, this little coppice contains lots of hazel beneath the birch and oak trees, just in front of the hedge (I need to finish cutting that!) I coppiced this a bit last year to use for bean and pea sticks, something I'll repeat soon.
Just above the hazel coppice is our fire pit. I only light this once or twice a year because I'm aware of the footprint of burning stuff. I light it to burn some of the more problematic plants I want to get rid of, such as ground elder and three cornered leek. These spreaders cannot go on the compost heap otherwise they'd be spread around, so a quick blast here puts an end to them. It's also nice standing by a fire now and again.
I have three witch hazel, Hamamelis x intermedia 'Jelena', plants waiting to be planted in a new area within the main garden. I ruffled my face in this one and, although the yellow ones have more scent, this did have enough to confirm I'm going to love having these in future. For now I'm keeping them in pots until I've decided exactly where they should go. They came as bare root plants and you can either plant these where you want them or pot them up until you're sure.
This is where I'll plant the witch hazels, an area at the bottom of the main garden where I'm going to continue the path. I've already begun removing lawn here. First by digging off the turf, now by covering with cardboard and a tarp I had. I'll plant up each area in spring and then work on removing more grass. Bit by bit. The perennials on the left are asters.
This ginormous Verbascum showed up in the main garden last summer and it wasn't something I planned to grow here. True to the message in Wild about Weeds, I have kept this rebel plant to see how it grows and looks alongside everything else.
The first pulmonaria flower, I'd almost forgotten how fantastic these spreading plants are for winter flying and early bees.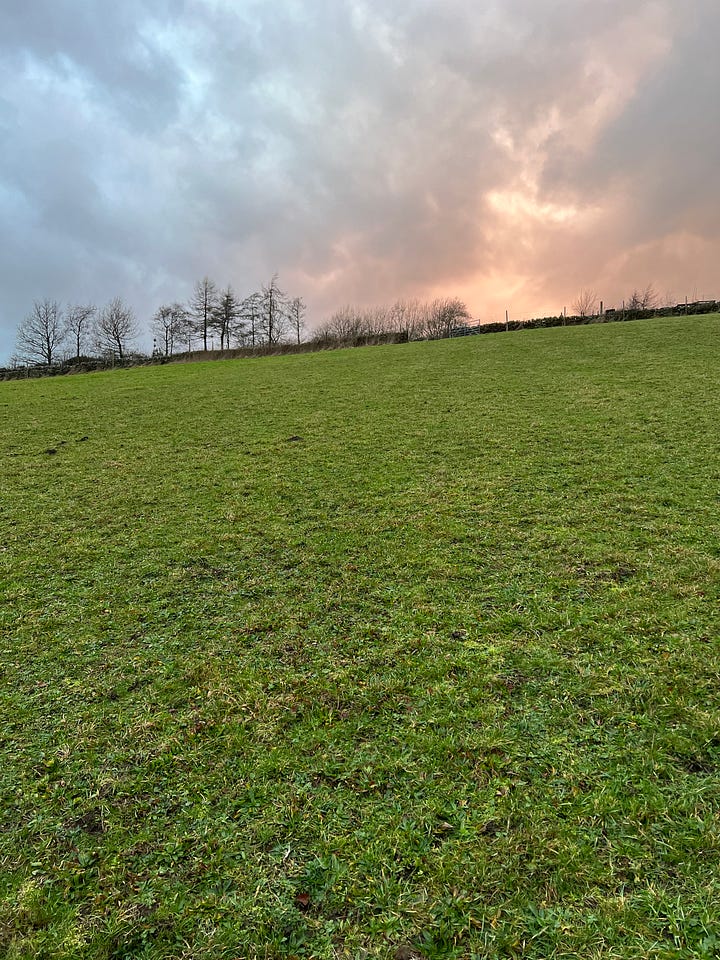 Clouds over the meadow were just wonderful at sunset yesterday. Looking closely at the plants across the field, although low and mid-winter, it is possible to see what has started growing and it looks like we're in for a very healthy, colourful year in 2023.