Discover more from WILD WAY
the art and science of gardening for nature by award winning writer Jack Wallington
Over 3,000 subscribers
7 PREDICTIONS FOR GARDENS IN 2023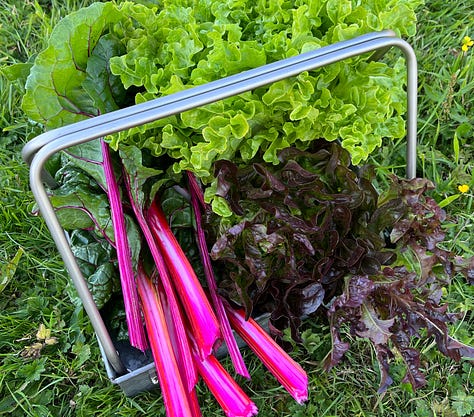 The start of the New Year on the Winter Solstice, 21st December 2022, always sparks reflections on the last twelve months and thoughts of the year ahead. With so many global events affecting our lives right now, I can't help my mind wander to the bigger topics impacting gardens. What are your predictions for gardening in 2023? I'm interested in your thoughts in the comments below.
My books: A Greener Life | Wild about Weeds | Patterns
1) The fight for life begins
In 2023 I expect to see a louder push back from companies making money out of climate and wildlife damaging products like peat based composts and pesticides. Green washing will come to gardening. But equally, gardeners and businesses with a green conscience will match that noise armed with scientific and business fact.
2) Growing edibles transitions from hobby to essential
Growing vegetables and fruit has been increasing in popularity in the UK for a number of years, after decades sitting in the background. Due to the cost of living crisis, a rising desire for global independence and a realisation that small-scale local growing is extremely good for climate and wildlife, I expect in 2023 we will see 'grow your own' crossing back into everyday life. Growing food will be seen in the same light as buying it from a shop, something that hasn't happened for most people since the first half of the 1900s.
WILD WAY is a reader-supported publication. To receive new posts and support my work, consider becoming a free or paid subscriber.
3) Herbs gain mainstream appeal
I've written a large amount on why I see herbs as a set of wonder plants everyone should grow in the grow your own chapters of A Greener Life, highlighting all of my favourites. It's not a hard sell; easy to grow in most spaces, even as small as balconies, tolerant of our increasingly chaotic climate, no need for pesticides, beautiful and of course, edible. Growing herbs is already popular with gardeners and I expect this to become a full-blown mainstream trend in 2023. I'm talking Lorraine and Good Morning Britain levels of popularity. Or at least, that should happen because every herb picked means less transport, less packaging and fewer chemicals.
4) A greater disconnect between trend setters and amateurs
Over the last few years we've seen lead ornamental gardeners move as far away from the traditional British garden as they possibly can. Topiary, trained roses, pesticides, formality, it's all Out with a capital "Oh!" However most people aren't, like me, glued to the pages of Gardens Illustrated and the #naturalisticgarden hashtag on Instagram. A vast majority of people still see National Trust historic formal gardens as the outdoor ideal.
5) Astro turf will be scrutinised by politicians
Plastic lawns have become an epidemic around the world, they're harmful for the environment, wildlife and us. In some countries its use is already being controlled, including bans on sport pitches in parts of the US, because of its ecological impact. In the UK we've had some huge petitions and campaigns in the last year or so which has peaked the interest as high up as ministers within Government. Michael Gove is said to be looking at preventing its use in new build homes as a start.
6) Gravel gardens will, incorrectly, be considered sustainable
In 2022's drought, gravel gardens were thrust into the spotlight. I even wrote about a beautiful one for The Guardian. As a result, people will believe it's the gravel that makes them ecologically friendly but as I've warned, this is wrong. It's plants and how they behave in a chaotic climate with high temperatures and wetter winters that's important. Adding large amounts of gravel or even recycled crushed stone and concrete can harm wildlife, making this a dangerous trend to see (a little for drives and paths is fine).
7) Rise of the greener plant nurseries
We've seen more independent plant nurseries proactively doing everything they can to grow plants in a better way for wildlife and the planet. Going peat free, using less or no plastic, less or no pesticides, installing solar panels and wind turbines, saving rain water. As more of these nurseries exist, customers are starting to wise up to those not putting the same effort in. The smart money is on the nursery owners following the green pound.
WILD WAY is a reader-supported publication. To receive new posts and support my work, consider becoming a free or paid subscriber.