Discover more from WILD WAY
the art and science of gardening for nature by award winning writer Jack Wallington
Over 3,000 subscribers
DELAYED BISTORT, ALLIUM DISORDER
WILD WAY DIARY: 28/07/23
It's been a funny old summer here on the hills of West Yorkshire. June was blisteringly hot and completely dry, stopping growth of plants that would ordinarily be rocketing at that point. Plants such as the ornamental grass Calamagrostis brachytricha and various different Bistorta. The Bistorts are only now starting to grow properly, which is very late for these tough plants. At the same time, plants that flower early began finishing sooner than normal, foxgloves and ox-eye daisies rushing to set seed in the heat. The result is a garden right now with fewer flowers than expected in it, but they are coming.
Since June's drought, we've had the opposite conditions, daily downpours have soaked the garden to create a humid lushness as the weakened plants begin to power-up again, surging into growth. Many plants in their third year are now pushing the dandelions and plantains out of their way as this new plant community begins to stabilise. I am no longer bothering to remove dandelions, the plants can fend for themselves.
Our garden is one for all seasons with its peak in early autumn, around the time of my partner Chris' September birthday. This is how I plan all gardens. While our garden is still patchy in these early years as the plant communities settle in and plants mature, I can see the early signs of plant combinations in real life, at last. Such as pink, red and purple of the Monarda, Sanguisorba and Hylotelephium above. As soon as we have some sunshine, more buds will burst into colour.
The wild Deschampsia cespitosa grass has struggled to stay upright following the early summer sun and heavy rains but its buff coloured seed heads help link the garden to the meadow next to it. In future years, as its neighbours grow big and strong, they will help to prop it up, whatever the weather.
Here is a slightly shadier spot beneath a large rowan tree where geraniums are doing most of the heavy work right now. Normally I enjoy keeping allium seed heads in among the planting but the rain and wind has toppled many of them. The strong visual line of their stem can create too much harsh visual disorder and, while I long for disorder in gardens, I do prefer it to be softer from mingling leaves and small flowers. I've taken the worst floppers out to dry in the stable as seed heads for indoor decoration. They lift out of the ground with a satisfying gentle tug. If they don't come out easily don't force them because the bulb will still be attached and you don't want that to come out with it! In the above photo you can see a number of Astrantia and I have removed spent flowers from them to encourage the plants to bulk up this year.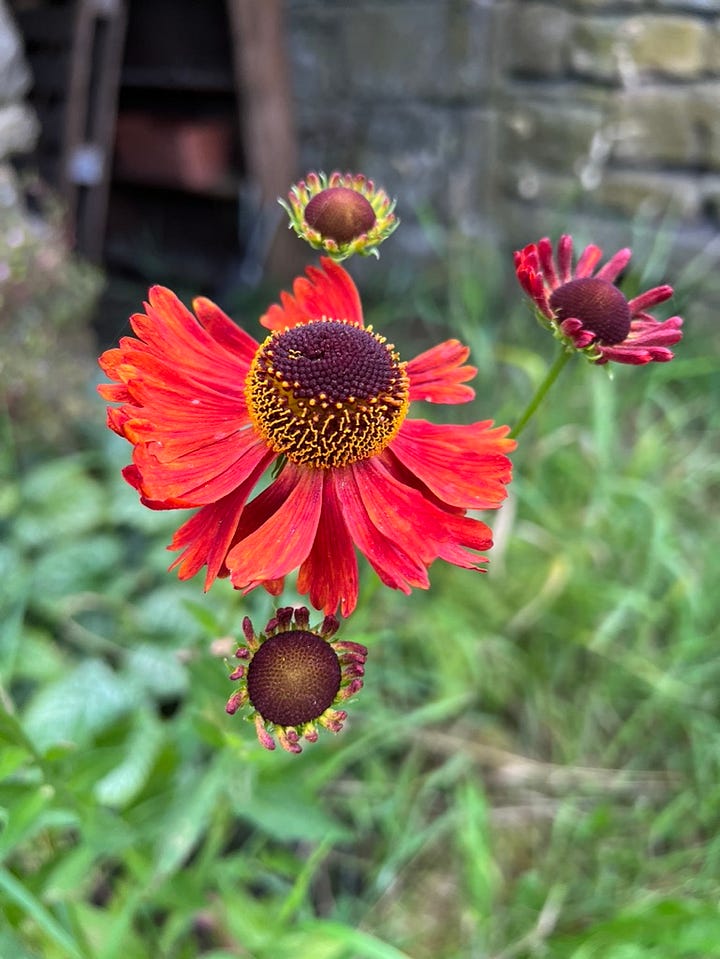 Don't get the wrong impression though, there will be more colour in our garden, in time. A good place to look right now is from the Helenium I am trialling. I sit on the RHS Helenium Trial forum, where, for the last two years, we've been assessing various different Helenium cultivars. We begin meeting again for 2023 in August and I'm looking forward to seeing how the trial plants at RHS Bridgewater compare to those I'm growing at 1000ft on our hillside.