Discover more from WILD WAY
the art and science of gardening for nature by award winning writer Jack Wallington
Over 3,000 subscribers
GARDENERS' WORLD, FUNGUS GNATS, DIVIDING PLANTS
POT'S GROWING ON? 17/02/23
I'm excited to share that I have a new column in Gardeners' World Magazine! Out now, it's called Hassle Free Harvests with the aim of sharing my longterm research into the crops with the highest yields for the least amount of time and effort. All grown organically, in peat free compost, around a full-time job, showing what's realistic. It's been a massive project that we've been working on for the last year with lots of lovely people involved. The first two issues, March and April, include a bonus outdoor tomato trial feature which involved me individually weighing thousands of tomatoes last year. Every. Single. One. So you better read it lol (jokes)
The March issue of Gardeners' World Magazine, in shops this week, covers everything I recommend vegetable growers sow this month. It's been great starting to write this series because I'm able to share more of my advice about the differences growing veg in northern England compared to down south on my old allotment. Anyway, the important thing about the above photo is that you can see how much nutritious food is available to pick right now, from herbs to leafy salads, kale and more, with a little planning.
In this first issue we've also included part one of my outdoor tomato trial. The aim to find out which tomatoes crop best outside on our Yorkshire exposed slope. What grows here will grow for anyone! I'm not going to lie that although fun to start with, the trial was a right mission because I had to grow all of the plants in the same way and then weigh every single blinkin' tomato to get the total yield. No popping one into my mouth until it was weighed. For comparison, I grew all 15 varieties outside and in the polytunnel, 30+ plants! It was well worth it though for some very surprising results. I've always grown tomatoes outdoors and I'm going to extend the trial this year with a few more outdoor cultivars.
WILD WAY is a reader-supported publication. To receive new posts and support my work, consider becoming a free or paid subscriber.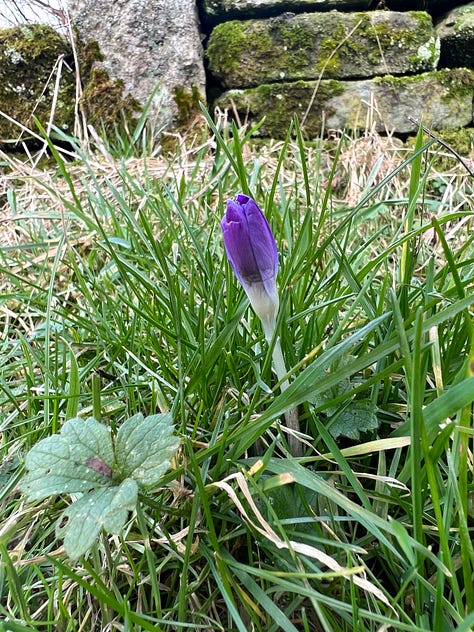 We had some sunny winter days earlier in the week that almost felt like spring (though it's stormy today!), giving me a chance to do a few things outside one morning. As the sun warmed the ground, one-by-one hidden Crocus tommasinianus 'Barr's Purple' opened becoming visible, surprise magic (explained in my book A Greener Life). I planted these in autumn last year with the hope that they will naturally seed around, increasing in number with each year. C. tommasinianus are one of the species that will self-seed unlike some of the more heavily bred types that only increase by bulb, making bigger clumps. Both are useful depending on what you want to happen. I might add some lighter colours next year.
One of the places I planted some crocuses was at the top edges of our main garden path to eventually line it. Hopefully…
If you look carefully at the top of this picture you'll see our main patch of snowdrops, which I started spreading around last year (I explain how in my guide). I'm going to repeat this by digging up a clump or two at some point in the next fortnight, planting more into empty spots. We have two main types of Galanthus nivalis, a large early cultivar and the smaller, later straight species. I'm mixing both.
The bulbs I spread last year are all beginning to emerge now, which is immensely heartwarming. I haven't bought any snowdrop bulbs for our new home, I am only spreading those that were already planted by previous owners, keeping the legacy going, which I find satisfying.
This was all lawn apart from a border on the right, where you can see the big clump of snowdrops. I've introduced thousands of bulbs into the new planting, which will become more apparent over the coming months as they flower and then years as they multiply.
Around about now you might find that your houseplants or windowsill seedlings are harbouring fungus gnats, little flies that feed on fungus in compost and multiply like billy-o. If one plant is particularly affected, isolate now. Otherwise, the only way to deal with them is with yellow sticky paper, shown above. Place it near the pot to catch them. It takes some time, and I feel mean doing it, but keep at it and you'll get them all. The result isn't very nice and I'll spare you what it looks like covered in the little flies. You can buy paper versions of these as I have, rather than plastic. The best thing is to avoid introducing them in the first place.
Our main culprit, which I should have predicted (stupid Jack), were the two trays of onion and shallot seedlings sown into reused compost… full of fungus gnats! As soon as I noticed the swarm I zipped them out to the polytunnel where they'll now grow happily until spring - the fungus gnats are fine to live their best life out there. Onions are hardy, they just need warmth to germinate. Fungus gnats are totally harmless to us and the plants but in the house they are very annoying.
Speaking of polytunnel, our winter salad leaves are still growing strong, giving us lots to eat.
As it's been so mild, I took the opportunity to begin dividing some of our more established hardy new perennials - the moment I've been waiting for since we moved in a couple of years ago! Above you can see two cultivars of Persicaria. I will do a proper guide on how to divide these soon but it's really easy. Persicaria form tough rhizomes that can simply be cut off into pieces and replanted outside or in pots. Just make sure you get shoots and roots!
WILD WAY is a reader-supported publication. To receive new posts and support my work, consider becoming a free or paid subscriber.