Discover more from WILD WAY
the art and science of gardening for nature by award winning writer Jack Wallington
Over 3,000 subscribers
DIVIDING CEPHALARIA, WHITE WISTERIA, AMBER SUNFLOWERS
POT'S GROWING ON? 17/03/03
In my early days of studying horticulture, I would walk the streets of Brighton in my lunch hour trying to cram botanical names into my head for exams. One summer day, in Brighton's Royal Pavilion Gardens, a towering, glowing yellow flower on thin stems wafted airily over a sea of Astrantia, red valerian and Nigella. I hurriedly searched for the head gardener who was working in his office, he uttered the words, giant scabious. Looking up the botanical name, Cephalaria gigantea was inscribed in my mind. I've since grown this giant in a number of gardens but until now, haven't had a large enough garden to grow it myself. Planning to add it this year alongside Cephalaria alpina for comparison, I was delighted when, as if by magic, our friend Rob offered me his plant, and a great clod of soil was placed in my hands. My eyes lit up to see dozens of shoots, allowing me to carefully slice some off, each with their own portion of root, fast forwarding my plan for a Cephalaria gigantea forest.
Meanwhile, in our wilder garden shown above, I'm doing something quite different. In spring it has lots of introduced ornamental bulbs, mainly daffodils, but for the rest of the year, I want this to be feral. With the feel of wilderness for us, and lots of habitat for insects and birds. I've been adding a few local wild plants, including various ferns, broom, gorse, valeriana and angelica.
As a seed sowing check in, so far this year I've sown: chillies, aubergine (shown above), sweet peppers, onions, shallots and this week, tomatoes! If you haven't, don't stress, there's time this month and in April. Though for best results, chillies, onions and aubergines need early sowing for a longer season compared to other crops because they are quite slow growing.
This week we saw two kestrels dancing with each other in the air and clinging to a barn roof. It felt more like a mating exercise but could have been a territorial spat. In a week when a beautiful little song thrush (shown above) hopped around the herbs, after weeks of singing from the trees. Song thrushes have moved off the red endangered list to amber, but that means their survival is still in a very precarious state. Song thrushes eat snails, smashing their shells against rocks and paving. A gardener's friend, it's essential we have snails as food to attract and sustain song thrushes. And even more important to not put down slug pellets that could poison them.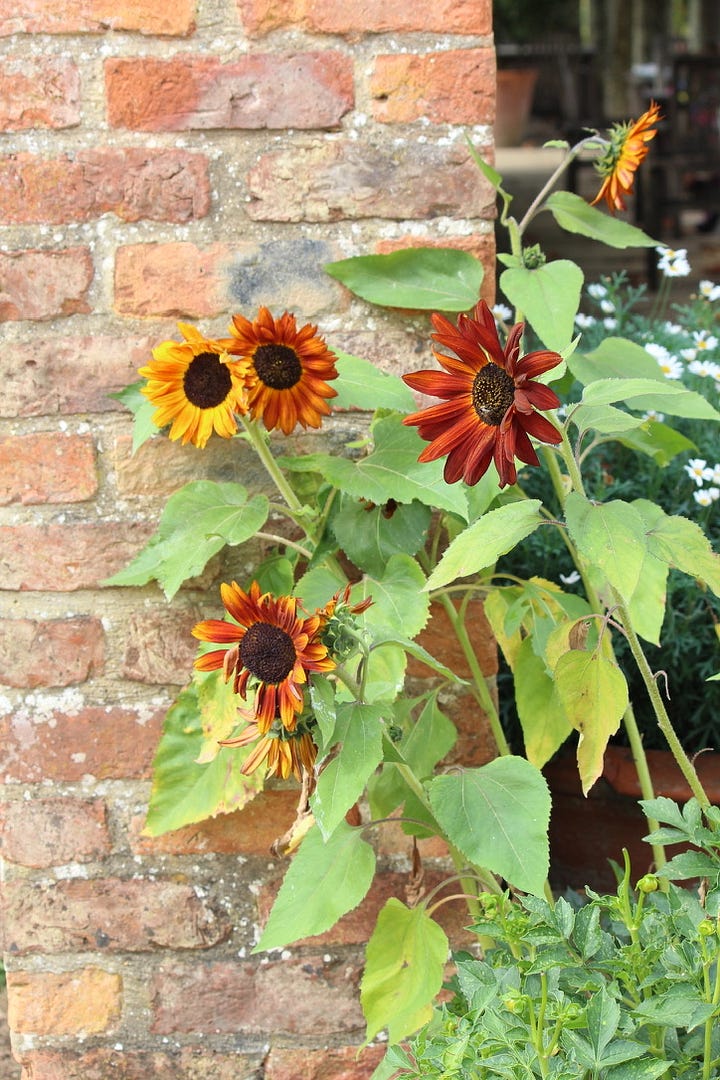 The above photos show annual sunflower cultivars growing in past summers. I haven't really grown annual sunflowers since a child, only perennial types, but I have always been taken with modern colours when I've seen them. This year I am going to grow a big patch of sunflowers for cutting, with orange 'Earthwalker', dark 'Red Sun', 'Pro Cut White Light' and pink-caramel 'Ruby Eclipse'. If you'd like to win 2 seeds of the four cultivars I'm growing, reply in the comments with your best sunflower memory. Chris and I will read them over lunch this week to choose a story that jumps out at us, announced as the winner next Friday. Then we can compare the sunflowers together in the summer!
This week we took receipt of our first wisteria, which I guess means we're now officially posh? I've been researching and trialling different varieties for over five years for different designs but only now have one ourselves, and I opted for my favourite, Wisteria floribunda 'Shiro-naga' (shown above in a photo I took at Gravetye Manor in 2019). However, I won't be training it up our house, I won't be training it or pruning it at all. Instead, I'm growing it through a tree the wild way! We'll see how it does in a few years, though it's reported to at least flower from year one.
I'm not sure how, but I started this Wild Way newsletter over two years ago! It's quite fun looking back at March 2021 (for paid subscribers) after we'd just moved in before I'd put spade to soil in our new garden. Thanks for sticking with me in this newsletter as the garden morphs into something new.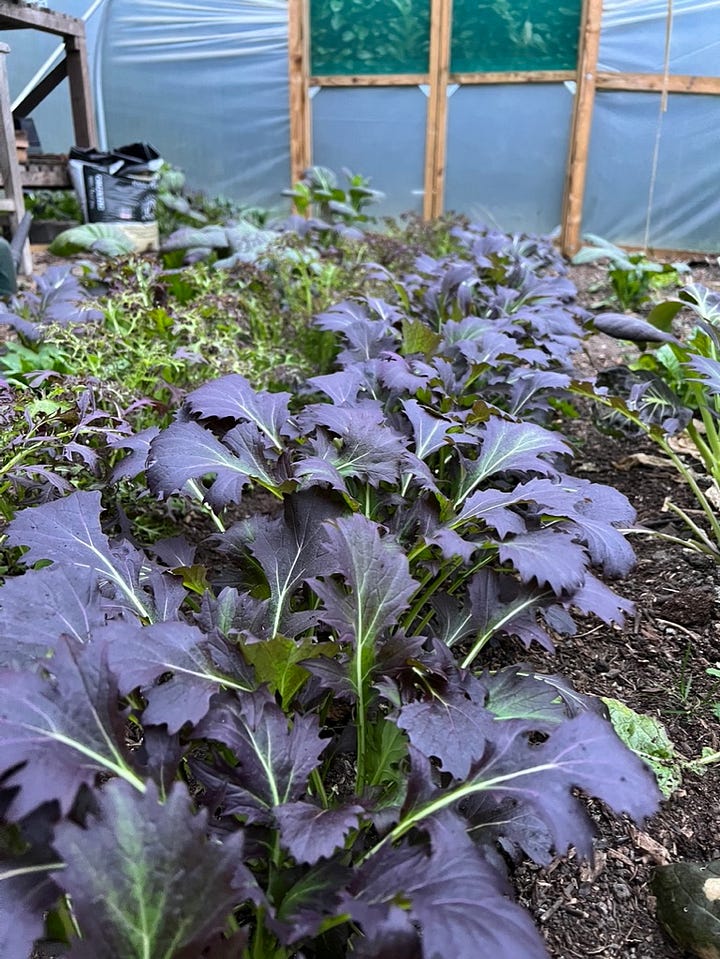 Winter salads in the polytunnel are bursting into growth with longer, brighter and warmer days. As are primroses outside in the wilder garden. Primroses are edible too, their leaves and flowers can be added to salads. Guests will be very impressed!
I'm interested in what you think the right number of newsletters is for the Wild Way per month. At the moment I've settled into a pattern of sending a newsletter every Friday morning with the first newsletter of the month being the larger, main paid subscriber Wild Way newsletter. Then the rest of the month is filled with the free, shorter diary, Pot's Growing On?
I'd quite like to send the occasional additional free newsletter focussed on a particular standalone topic. For instance, I might interview someone. I could either send out an extra post or I could replace one of the Friday newsletters.
I don't know what the right answer is and I value your inboxes too much to not include you in the decision. Please take part in the poll above and share your thoughts in the comments below.